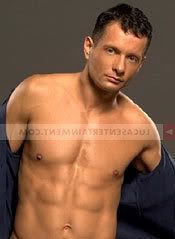 Courtesy of Postcards from the Pug Bus



Clay Aiken Accuser John Paulus Wins Contest



(REUTERS) - Kelly Ripa may not have a clue about where Clay Aiken's left hand has been, but readers of Postcards from the Pug Bus, the number 1 source of online celebrity satire in all of Southeastern Pennsylvania, certainly have their opinions.

Literally dozens of Pug Bus readers entered the popular website's First Annual Where Has Clay Aiken's Hand Been? contest.

"After carefully screening out the entries written entirely in uppercase or Chinese letters," said Biff Scuzzy, special promotions administrator for the Pug Bus, "we were able to identify the winner and the first four runners up."

Fourth runner up was "Sockpuppet," who assured us that Clay Aiken's left hand was "holding the hand of a child in Uganda as Unicef Ambassador for Children." Third runner up was "OhDear," whose entry read, "Where were his hands? On his computer keyboard, typing away looking for chatrooms."

Second runner up was "Angie," who suggested that Mr. Aiken's hand was "holding a pretend steering wheel as he demonstrated to kids in Banda Ache how to do the driving dance moves to lighten their spirits."

First runner up, and potential contest winner should the actual winner be assassinated, is "RUBY RHINO": "Clay's hands were busy practicing tying little firm-but-gentle Boy Scout knots so that he could get his 'Neverland Ranch Leader' badge."

The surprise winner was John Paulus (or someone pretending to be John Paulus) : "I know where that hand was on January 2, 2006, and where he tried to put it," wrote Mr. Paulus, a former Green Beret. "He was using it trying to fist me, and later he had it on my junior trying to excite him. I better win since I am speaking from first-hand knowledge. No pun intended."

In other news, Britney Spears' coochie turned twenty-five yesterday. A source close to Ms. Spears' said she intended to spend it "in her birthday suit."



©The fine print: the editorial content on this page is fictional. Be advised to believe half of what you see and nothing of what you read. You must have a mental age no greater than eighteen to enjoy this site.