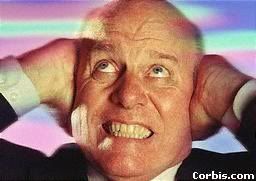 Some of the reviews are coming in from the kickoff performance of Clay's Holiday tour performing with local symphonies.
Of course, Claymates are writing their own fawning reviews, but for them, if Clay walked on stage, took a giant shit, then bowed and walked off, they'd write glowing reviews about how it smelled like potpourri.
Below you find a review from someone who attended the show primarily for the Symphony performance, but was also looking forward to Clay's part of the show. The reviewer quoted has pretty much the same reaction as anyone who is not up past their ears in the Kool-Aid.
Clay. Do Something. Stop the "snark". Only the ClayMates think it's funny. The general population doesn't. Concentrate on your voice. Shut up and sing.
December 3, 2006
jenny chicago, il
What a disappointment this was. WE thought we would start off the holiday season with the warm, rich sounds of the local symphony with the added treat of Clay Aiken's voice. Instead we got awful howling by Mr. Aiken, screaming by a bunch of middle-aged women for what purpose none of us can figure out, and foolish audience banter that belied the season. This might be expected if we had been at an amateur show. On most songs, Mr. Aiken's voice was out of tune, off pitch and raspy. Two songs in particular were embarrassing for even the audience. One, "All is Well" can best be described as a mating call for the mosse in Minnesota and "Don't Save it All for Christmas Day" was just too painful to label as anything at all. The appearance was undeserving of the theater and the symphony. Next time I woul hope the musical guest would be a professional who actually knows how to sing.
Jenny from Chicago? I hope you get that next time, too. You, and anyone else who paid for that show deserved better.