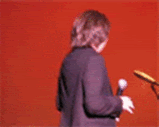 So, Clay blogged last night and there was great rejoicing throughout "The Nation".
But should there have been? What is Clay really saying in this blog?
One could interpret it as a big "BACK OFF" to his fans.
Nowhere in this blog was Clay's trademark "thank you all for being such AMAZING fans", or "You guys are AMAZING!"
Could that be because Clay has nothing to sell right now or does he not find his fans so "amazing" anymore?
Let's read the blog and some of the responses to it.
01/08/07 : For all of us
I must be honest. I hesitate at times to write things on here for fear that they will be misinterpreted or misconstrued. I know how many of you love to pick apart whether or not my misplaced comma was a ''subliminal signal" that I am "considering taking a untimely pause in my album promotion" or that the fact that I capitalized the word "YES" in a blog really means that I am "concerned about the international ramifications of events in Yemen, but can't say so outright because of pressure from the record label"....HA HA..
You know I am right! If you don't do it.. you know someone who DOES!!
That said, I somehow today recalled one of my favorite quotes, and wanted to share it with you all.It has no specific pertinance to my life or anything that may or may not be happening as I enjoy a little downtime with the dogs at home!But.. Miss Radner's life, though cut far too short, obviously provided her with opportunities to accumulate amazing wisdom. And it shows in her words.
As I find myself spending the next few weeks resting and preparing for coming events this summer and beyond, instead of stopping by here every few weeks to update you on how fast the grass is growing in the yard or what Durham chewed up today, I thought I might take the opportunity to share with you some words of others.. some funny, some profound, some just stupid.... that have either made me laugh, made me cry, or made me think.
But, instead of figuring out the deeper meaning of why I chose Gilda Radner this week (no, it's not some sort of hint that I am going to do Weekend Update on SNL) or why I may choose Churchill another week (regardless that he shares my birthday), instead I hope you enjoy each new entry. Read them for what they are and examine how they might be pertinant to your life. And, if in reading them, you learn a little more about me, I guess thats fine too.
For today...
"I wanted a perfect ending. Now I've learned, the hard way, that some poems don't rhyme, and some stories don't have a clear beginning, middle and end. Life is about not knowing, having to change, taking the moment and making the best of it, without knowing what's going to happen next." – Gilda Radner
love,c
Current Mood: Happy
Here are a couple of responses to the blog from the ClayBoard.
This ClayMates starts out saying that they do over analyze his words, and then promptly goes on to do just that.

bbandit31 Registered MemberPosts: 101(1/9/07 1:08 am)Reply
Re: HE BLOGGED Jan 08
He is right. We do over analyze his words. Now from the reading of his blog...it looks like a summer tour?That's 6 months with no Clay!! Or....isn't it unseasonably warm over many parts of the east coast now....and many have said it is like summer....so could it also mean the tour could actually be anytime soon? He did say he was resting a few weeks.....not a few months.just my
Then there is this post which is just downright creepy.

SidiDenak Registered MemberPosts: 386(1/9/07 7:54 am)Reply
Re: HE BLOGGED Jan 08
I'm going to try but I just want to mention that "I always get things and quotes backwards or messed up" but here goes."Please God, help me to accept the things I can not change; change the things I can; and to be able to know the difference."
Please help me if I got it wrong.Do you think that just maybe we are getting a Summer Tour because . . . he will be taking his ATDW Tour overseas first?
How many of you, who've been to so many of the same Tour will be willing to follow him overseas? That would probably shock his "cutie patootie" pants off to see his U.S. fans in the audience.
I do believe that Clay misses us just as much as we miss him.
JBT05 was a special Tour from Clay to us;
WITHOUT YOU was our special song from Clay to us;ATDW was a special CD from Clay to us.
There's no one that can separate Clay from his fans nor his fans from Clay. WE ARE AS ONE.
I'm ready to follow Clay to the U.K. and THE SON said he'll go with me.
THE SON was in the U.S. Air Force and they stationed him at Sculthorp, England for 2 years. He loves the U.K. I couldn't understand why he didn't come back with an English accent. I would have loved for him to call me MUM instead of MOTHER. When I was attending the WE ARE THE WORLD Concert here in the States, he was at Wembley Stadium watching it. The English singers (Phil Collins, Sting, etc.) were jumping on the Concord from Wembley to the States to perform.THE SON brought home some weird clothes though like: "Pink wool sport jacket, white wool sport jacket; and a dark teal blue tweed suit". That is what they were wearing in the U.K. at that time (the days of Duran Duran, WHAM then George Michael, Boy George, Billy Ocean, Simply Red, The Cure, etc.). Everytime I tried to bury them in his closet he would ask for them. Eventually he stopped wearing them and went back to normalcy. I guess he got teased a lot about it for that wasn't the style of choice here in the states.
What do YOU think Clay was trying to say in his blog?