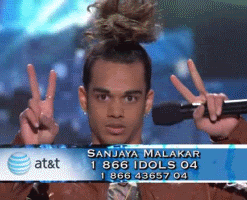 We take a brief break from our regular Clay Aiken broadcasting to wonder on results night, is Sanjaya Malakar really going to last another week?
At first it was possible to feel sorry for Sanjaya Malakar given all the press attention he's received essentially calling him a joke.
Now he seems to revel in it and is pushing it even further.
The attention seems to have gone to his head (no pun intended) and he appears to be becoming a bit full of himself.
AI is supposed to be a singing competition. Sanjaya can't sing.
He's a freak show.
It's a shame that better vocalists are being voted off while this mess gets by each week.
Sadly, Dial Idol again predicts that Sanjaya will be safe and that Jordin Sparks may be in the bottom three.
We'll all see the results a little later on.